We announce the signature of the third and fourth winner of the Del Campo al Plato Program Ideas Competition
 AZUABANA 
Production of natural fertilizer using
Microorganisms and medicinal plants
The winner AZUABANA is an organization of 46 small and medium-sized banana producers with organic certificates in the Province of Azua, in the south of the Dominican Republic.
This project will help to improve soil fertility and pest and disease control, thereby increasing the production potential in banana cultivation.
The plan is to produce fertilizer by using natural means such as beneficial mountain microorganisms, fermented grass, processed fertilizer and plant foliage, and some of the plants to be planted around the farm have medicinal benefits.
Support is also being given to the conversion of the factory to produce more fertilizer. Finally, partners and external organisations are given the opportunity to participate in training courses on the production and application of fertiliser on the farm.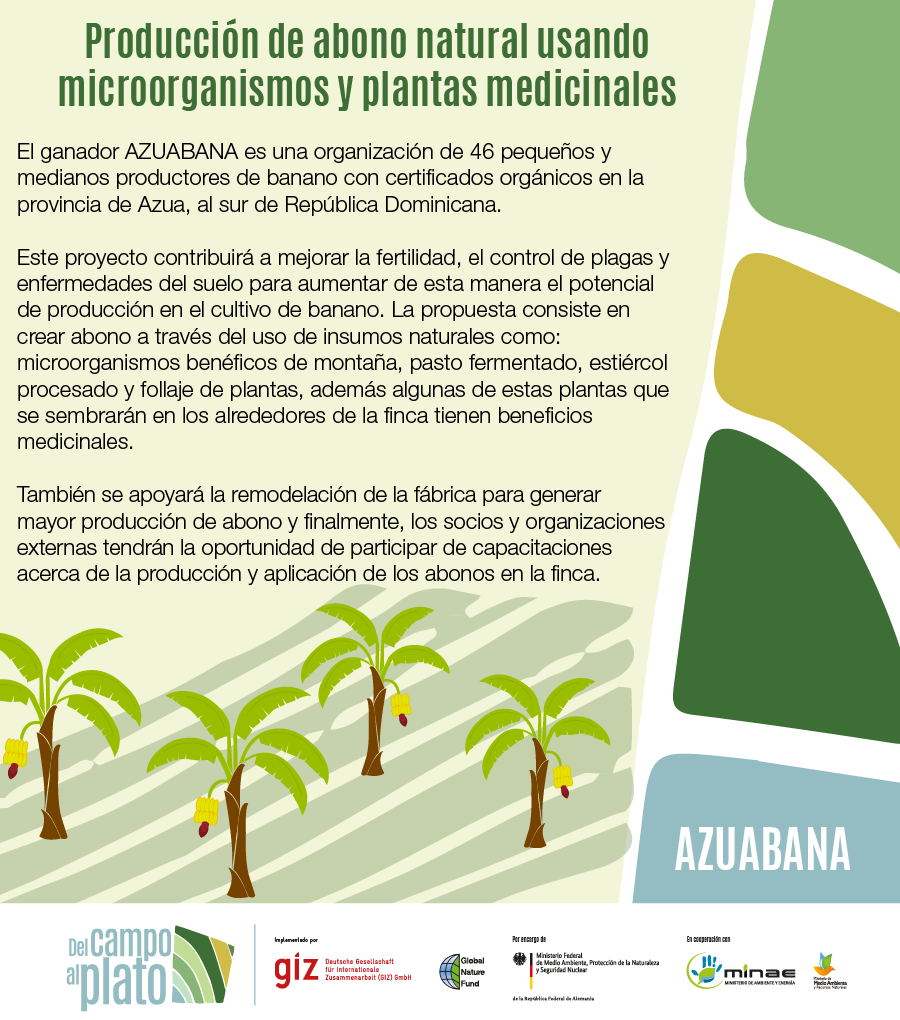 BANELINO
Drone technology for banana cultivation
BANELINO is an association of 320 small producers of organic bananas based in the Dominican Republic and for the second time winner of the ideas competition of the From Field to Plate program.
This project consists of the purchase, training and use of drones and image interpretation software to take an inventory of the biodiversity of the farms in order to obtain reliable data in real time on the quantity and variety of species within the organic banana cultivation system of each individual employee.
At present, BANELINO only manages to carry out the inventory in 25% of its farms per year.
This proposal will provide them with more complete information on their parcels, enabling them to meet some of the requirements of the standards, draw up action plans to improve biodiversity and produce maps of the farms' flora.