Time is ripe for more biodiversity!
Agriculture is largely responsible for ¾ of the global species extinction. Banana and pineapple cultivation also have significant environmental impacts. Yet countries like Costa Rica and the Dominican Republic are biodiversity hotspots.
Over the last century, many tropical rainforests have been cleared for cultivation, and habitats for sloths, macaws and toucans have been lost. Intensive pesticide use, soil erosion and habitat fragmentation continue to make life difficult for many animals today.
By buying bananas and pineapples from biodiversity-friendly production, you can help to compensate for this loss. In doing so, you will be helping the macaw, sloth and toucan and many other species of tropical rainforests and other habitats, right up to the coral reefs of the Caribbean.
Biodiversity: A task for everyone!
Responsible food retailers give importance to the protection of biodiversity in the cultivation of food. They offer bananas and pineapples certified with high-profile standards.
Responsible individuals, families and seniors buy Fairtrade or Rainforest Alliance certified bananas and pineapples. They ask supermarkets how they protect biodiversity.
The initiative From Farm to Fork by GIZ, GNF and the Lake Constance Foundation supports farmers in Costa Rica and the Dominican Republic in the protection of ecosystems and biodiversity.
"I was born here, grew up here and am still here. There is nothing that motivates me to leave my piece of land, my farm and my production."
Carlos Tejada, Banelino
There are people born to work with, manage and protect the land; Carlos Tejada is proof of this.
Carlos lives in Mao, Valverde, one of the areas in the Dominican Republic where the most organic bananas are grown. He has agriculture in his blood since he was seven years old, when he accompanied his father to work in the fields.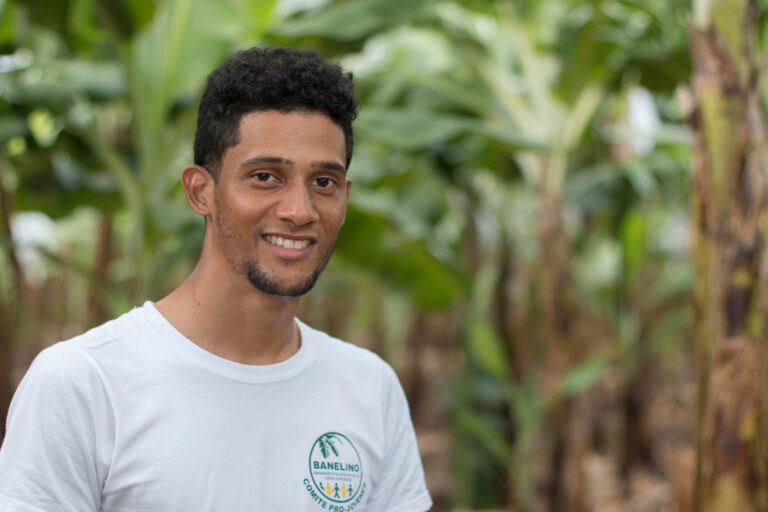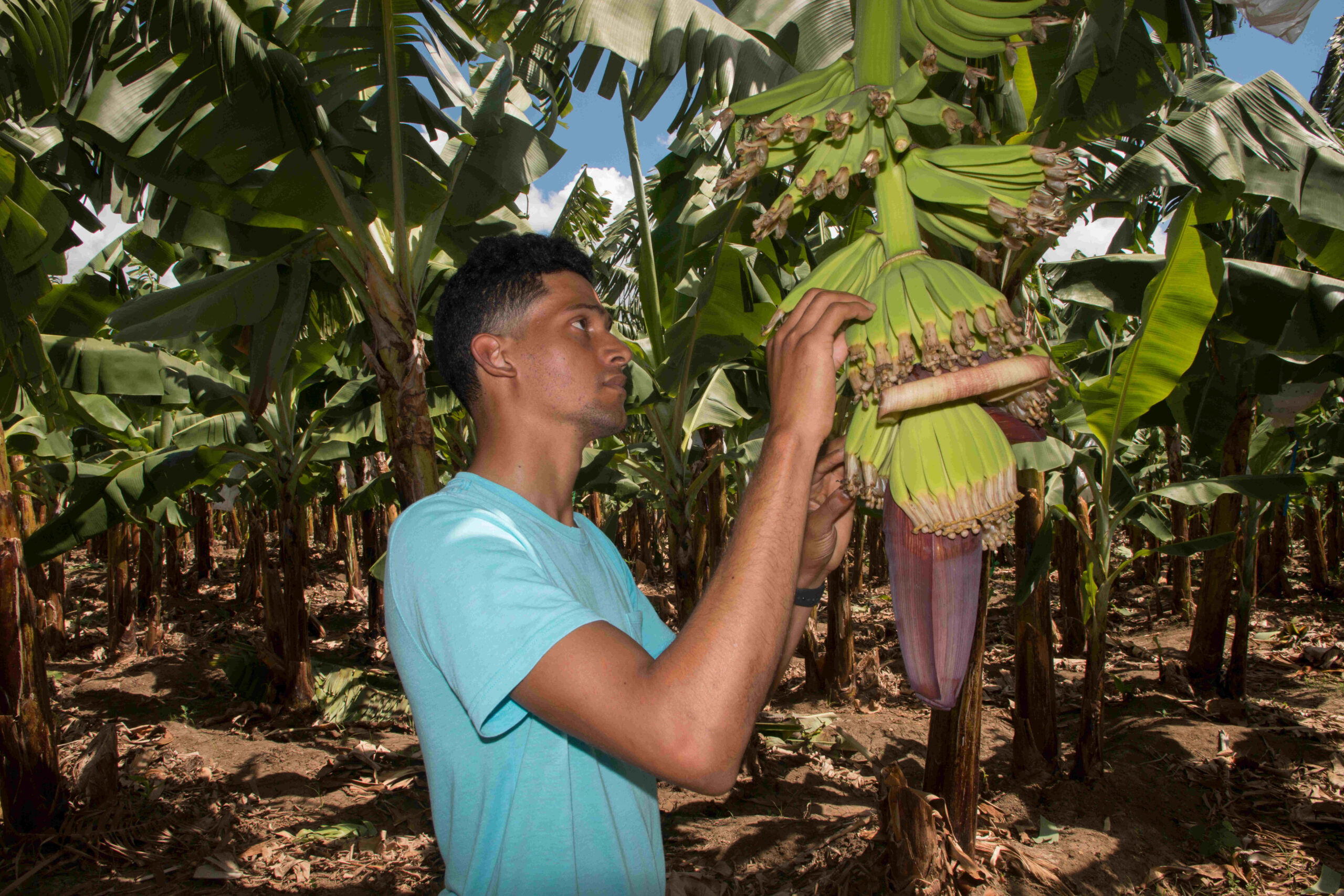 Carlos has had his own banana farm since he was 26 years old and has been working to protect biodiversity ever since. He has achieved all this with the help of his father, who noticed his son's constant efforts to manage the farm and production well. For this reason, in 2016 he prepared a piece of land where Carlos could run his own plantation.
"You can't imagine the satisfaction you feel when a tourist comes to the farm and sees a tapir eating a pineapple. You feel a joy that is difficult to understand unless you have experienced and seen it yourself."
Álvaro Vargas
Like his father and grandfather, Don Álvaro has been involved in farming from an early age. Today, at the age of 48, he is passing on this heritage to his daughters. He has embarked on the adventure of growing sustainable pineapples on their MOVABA farm with his wife Rosaura for the past 25 years.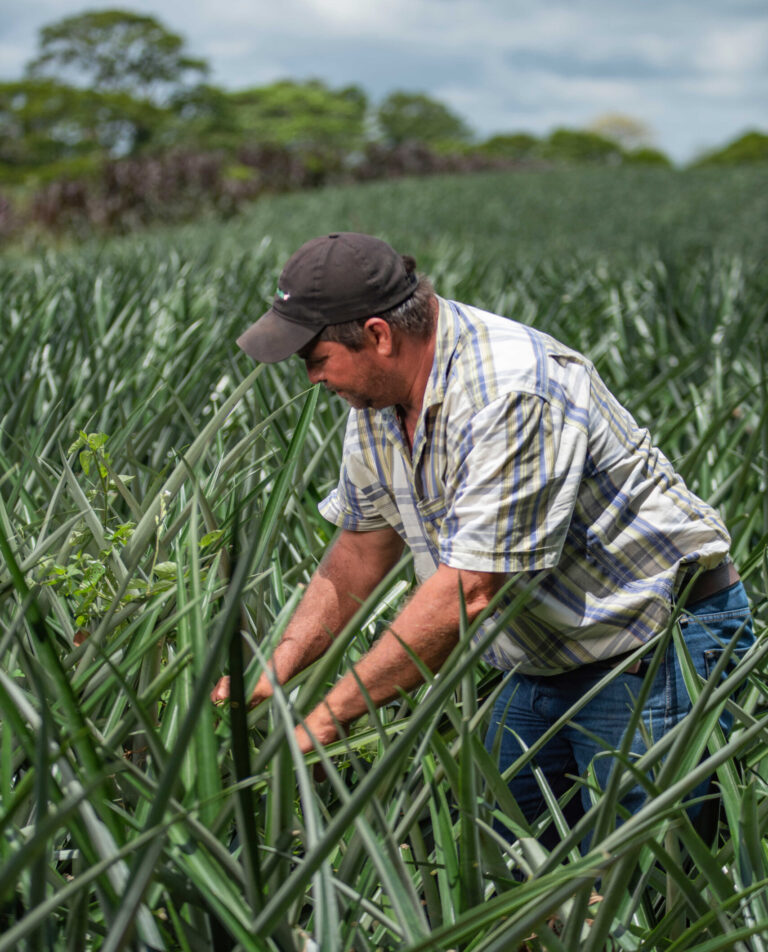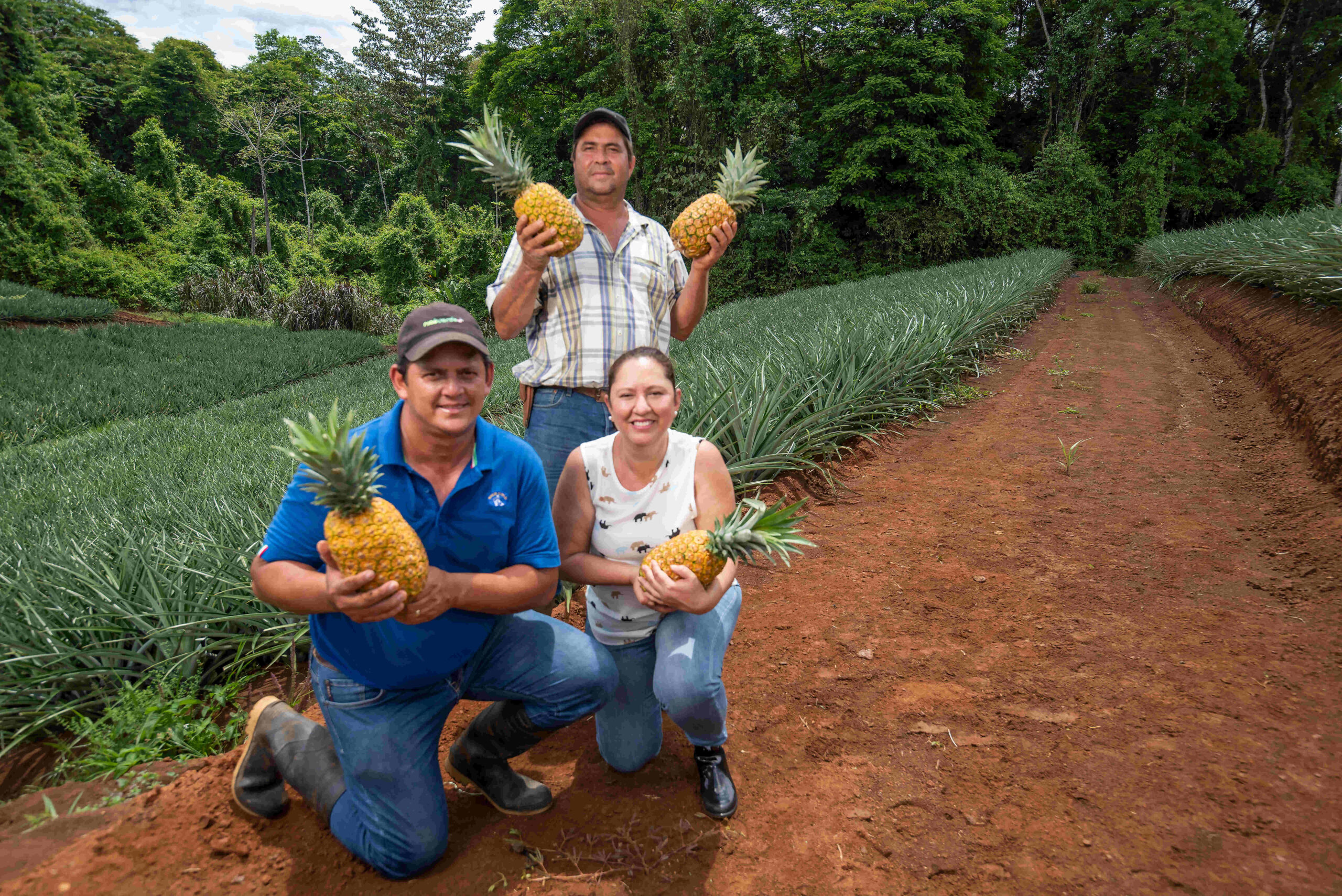 On this farm, they practice biodiversity-friendly cultivation of pineapples and enjoy the resulting diverse nature. They love watching coatis, monkeys, tapirs and deer visit their plantations. The animals feel safe in the company of Don Álvaro, Rosaura and their staff because their lives are valued and respected here. Managing 100 hectares of land and preserving 26 hectares of pristine mountains is not an easy task, but it is possible if you love biodiversity.
Why are bananas crooked? The most famous of all banana questions has a very simple answer: bananas grow from the bottom up towards the sun. They stretch away from the trunk and thus get their shape.
The name banana comes from the Arabic word "banan" for finger.
Bananas float on water.
Banana peel helps against the itching of insect bites and can be used for cleaning shoes and whitening teeth.
Did you know that although pineapples are now available worldwide, they actually originated in a place between what is now Paraguay and Brazil? That is, this fruit is native to South America.
In 1493, it was Christopher Columbus who brought the fruit to Europe.
The first mention of the word pineapple dates back to 1398. At that time, however, the word was still a designation for 'pine cones'.
The everyday life of sloths
Two sloths sit on a tree. After two months, one yawns. The other responds:" You stress me out with your hustle!!!"
The other day at the pet shop: A customer wants to buy a parrot. There are three parrots to choose from.
The customer points to the first one: "How much is it?"
Pet shop owner: "100 euros."
Customer: "Why is it so expensive?"
Pet shop owner: "He can read and write fluently."
Customer: "How much is the second one?"
Pet shop owner: "200 euros."
Customer: "Why is it even more expensive?"
Pet shop owner: "He can do all four basic arithmetic operations."
Customer: "And how much is the third one?"
Pet shop owner: "300 euros."
Customer: "What can he do that makes him as expensive as the other two together?"
Pet shop owner: "I don't know what he can do, but the other two say boss to him."
Biodiversity bears fruit – Why is biodiversity so important for us and for agriculture?
Living soil, bees and other pollinators, and a biodiverse landscape are the basis for the production of our food worldwide.
With its ecosystems and diversity of species, nature provides us with everything we need to live: clean waters, fertile soil, a microclimate or the pollination of our wild and cultivated plants – without these "services" we humans and agriculture would not survive.
Agriculture, and thus our food, is therefore highly dependent on intact ecosystems and biodiversity. Unfortunately, however, intensive agriculture is also one of the main causes of the dramatic loss of biodiversity. And the banana and pineapple monocultures in Central and South America are also part of this, if they are not managed responsibly.
A project for more biodiversity in the cultivation of bananas and pineapples!
We want to help preserve the habitats for macaws, toucans, sloths and more. For this we need everyone – farmers, importers, supermarkets and you! This is the only way for farmers to get fair prices for their services to protect biodiversity in Costa Rica, the Dominican Republic and other countries.
With the From Farm to Fork project, the German Agency for International Cooperation, Global Nature Fund and Lake Constance Foundation are supporting stakeholders along the entire banana and pineapple supply chain to conserve and promote biodiversity. Farmers receive advice, use it to implement biodiversity action plans, and enter the best projects in a competition for ideas. Supermarkets and others improve their purchasing criteria and support biodiversity measures in the countries where bananas and pineapples are cultivated. Many training courses facilitate the implementation of the measures. The German Federal Ministry for the Environment, Nature Conservation, Nuclear Safety and Consumer Protection is supporting this exemplary project with its "International Climate Initiative" funding program.